The Artists
Eugene von Guerard
EUGENE von GUERARD
ABORIGINES MET ON THE ROAD TO THE DIGGINGS, 1854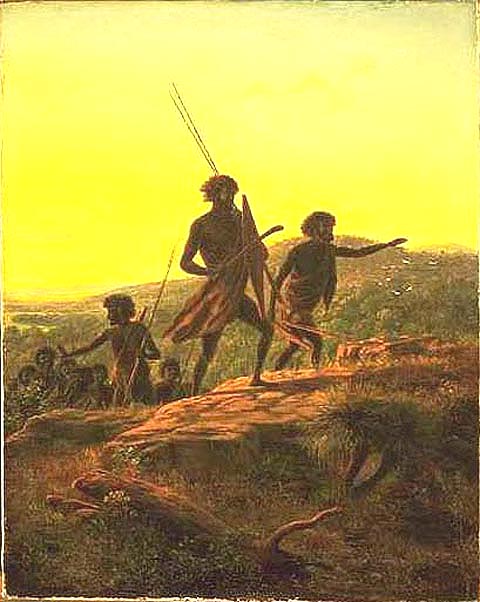 EUGENE von GUERARD
Born Vienna 1811, Died London 1901
ABORIGINES MET ON THE ROAD TO THE DIGGINGS, 1854
oil on canvas, 46.5 x 37 cm
Collection: National Library of Australia
It was not uncommon for diggers on the way to the goldfields to come across Aborigines. This work captures a group of Aborigines who are depicted in 'noble savage' fashion, surveying the distant landscape. They are armed and probably in search of game.
The work was exhibited in the Melbourne Exhibition of 1854, which was staged in connection with the Exposition Universelle de Paris of 1855.
The title of this work has also been recently given as 'Natives chasing game'.
Copyright Notice
No works can be copied from this site. The image is provided for research purposes only and cannot be reproduced without prior consent of the National Library of Australia. All Rights Reserved medialaunch Pty. Ltd.
Left: Arthur Streeton - Above Us The Great Grave Sky, 1890
Collection: National Gallery of Australia, Canberra.