The Artists
Eugene von Guerard
EUGENE von GUERARD
VIEW OF SNOWY BLUFF ON THE
WONNANGATTA RIVER, 1864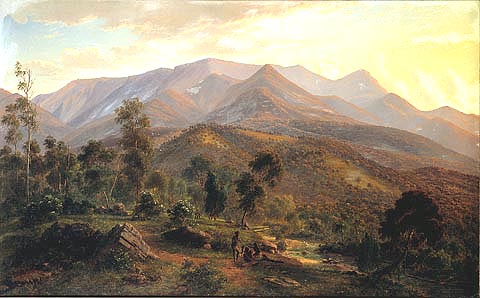 EUGENE von GUERARD
Born Vienna 1811, Died London 1901
VIEW OF SNOWY BLUFF ON THE
WONNANGATTA RIVER, 1864
oil on canvas, 93.8 x 151.0 cm
Purchased 1965
Collection: National Gallery of Victoria, Melbourne
This work was painted from sketches produced by Eugene von Guerard while accompanying the scientific expeditions into the more remote areas of Victoria.
Snowy Bluff is in the Alpine National Park above and to the south of the Wonnangatta River, in the far north-east of Victoria. To the north of this section of the river are the peaks of Mount McAdam and Mount Larrit, and to their north-east is Mount von Guerard, reportedly named after the artist by the scientist, Alfred Howitt.
Note the Aborigines depicted in the foreground of this work. The Wonnangatta River derived its name from the Aboriginal for 'Big Water'.
Copyright Notice
No works can be copied from this site. Permission to publish or reproduce can be sought from the National Gallery of Victoria, Melbourne. All Rights Reserved medialaunch Pty. Ltd.
Left: Arthur Streeton - Above Us The Great Grave Sky, 1890
Collection: National Gallery of Australia, Canberra.