The Artists
Eugene von Guerard
EUGENE von GUERARD
SPRING IN THE VALLEY OF THE MITTA MITTA
WITH THE BOGONG RANGES, 1866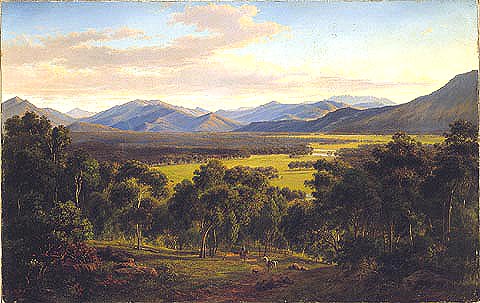 EUGENE von GUERARD
Born Vienna 1811, Died London 1901
SPRING IN THE VALLEY OF THE MITTA MITTA
WITH THE BOGONG RANGES, 1866
oil on canvas, 67.6 x 104.6 cm
Gift of the Hon. Sir Archibald Michie, 1866
Collection: National Gallery of Victoria
This was one of a number of landscapes that capture various areas of the Mitta Mitta River, that include 'View on the Upper Mitta Mitta', and 'Head of the Mitta Mitta River, eagle's view of the mountains'.
This was the first of Eugene von Guerard's works to enter a public collection, when presented, by Sir Archibald Michie, to the National Gallery of Victoria in 1866. There is a related drawing of the scene 'Yabba Patten's Station Mitta Mitta 3 Nov. 1862' in the Mitchell Library collection.
The work was painted close to what is now the township of Yabba, above the Yabba Valley, which is situated a short distance south-east of Tallangatta, in north-east Victoria.
Note: the snow on Mount Bogong (1988 metres) to the right in the distance. The Mitta Mitta River derived its name from the Aboriginal for 'little water' or 'where reeds grow'. The Bogong Ranges, also derived their name from the Aboriginal, with 'bugong', being the Aboriginal for the 'moths' in this area which were eaten by the Aborigines.
Copyright Notice
No works can be copied from this site. Permission to publish or reproduce can be sought from the National Gallery of Victoria. All Rights Reserved medialaunch Pty. Ltd.
Left: Arthur Streeton - Above Us The Great Grave Sky, 1890
Collection: National Gallery of Australia, Canberra.