The Artists
Eugene von Guerard
EUGENE von GUERARD
WARRENHEIP HILLS NEAR BALLARAT, 1854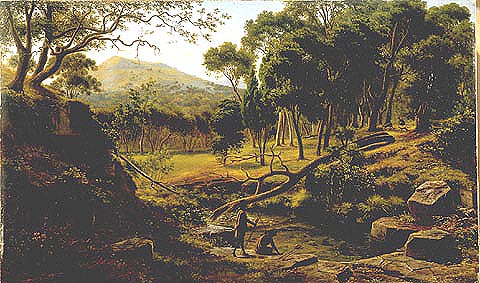 EUGENE von GUERARD
Born Vienna 1811, Died London 1901
WARRENHEIP HILLS NEAR BALLARAT, 1854
oil on canvas, 44.0 x 73.6 cm
Purchased 1977
Collection: National Gallery of Victoria, Melbourne
This work depicts a bush scene of early Ballarat, with Aborigines by a stream in the foreground. The Aborigines have their hunting spears and appear to be in search of game. Eugene von Guerard, shows us that they are likely to be successful, for only a short distance away are a couple of kangaroos, who do not seem too concerned by the presence of the Aborigines.
To the right in the distance is Mount Warrenheip. Warrenheip was taken from the Aboriginal, 'warrengeep', meaning 'trees on mountain top', or 'emu feathers on top'.
Copyright Notice
No works can be copied from this site. Permission to publish or reproduce can be sought from the National Gallery of Victoria, Melbourne. All Rights Reserved medialaunch Pty. Ltd.
Left: Arthur Streeton - Above Us The Great Grave Sky, 1890
Collection: National Gallery of Australia, Canberra.