The Artists
David Davies
DAVID DAVIES
UNDER THE BURDEN AND HEAT OF THE DAY, 1890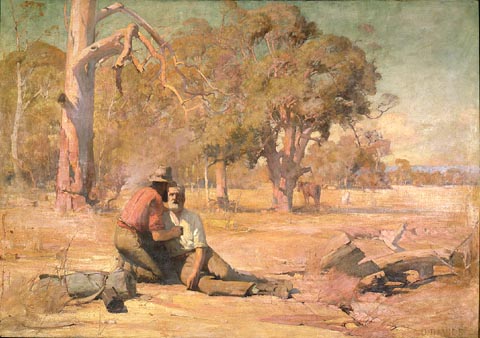 DAVID DAVIES
Born Australia 1864, Died Great Britain 1939
UNDER THE BURDEN AND HEAT OF THE DAY, 1890
oil on canvas, 117.2 x 168.1 cm
Gift of James Oddie, 1891
Collection: Ballarat Fine Art Gallery
The title of this work was taken from the Bible, Matthew 2: 12.
This is a large narrative painting, in which Davies has managed to capture the same sense of extreme drought and relentless heat on the summer landscape in outback Australia., as he did in his work 'A Hot Day', 1888.
James MacDonald in his book The Art & Life of David Davies, described the work as
'showing two men, under a tree, behind whose shadow, in the blinding pallid glare of noon, the sun beats down on a parched and bleaching landscape, a-quiver with grilling heat. Though tight of drawing, and hard as to textures and modelling, paramount in it is the feeling of relentless, steely, midsummer and its effect on the two prostrated men.'
The work was purchased by James Oddie and the sale of the work provided Davies with the finances he needed to travel overseas and study in Paris. James Oddie later presented the work to the Ballarat Fine Art Gallery.
Further information:
David Davies 'A Hot Day', 1888
Copyright Notice
No works can be copied from this site. Permission to publish or reproduce can be sought from the Ballarat Fine Art Gallery. All Rights Reserved medialaunch Pty. Ltd.
Left: Arthur Streeton - Above Us The Great Grave Sky, 1890
Collection: National Gallery of Australia, Canberra.