The Artists
Elizabeth Parsons
ELIZABETH PARSONS
THE PIER, MORNINGTON, c. 1884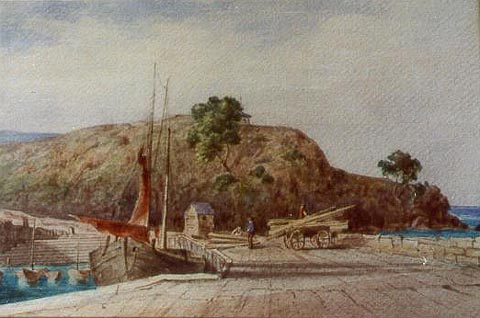 ELIZABETH PARSONS
Born England 1831, arrived Australia 1870, died 1897
THE PIER, MORNINGTON, c. 1884
watercolour on paper, 21 x 31 cm
Private Collection
In this watercolour work, Elizabeth Parsons has depicted the old Mornington Pier, and some workers with a cart unloading wood, possibly to be used for repairs to the pier. Mornington was considered one of the 'beauty spots' on Port Phillip Bay, and was one of the destination points for the Bay Excursion Steamers. Artists would join the many other day-trippers, and the approach to the pier at Mornington, became a well-known landmark, and one that was photographed by many and later reproduced on postcards.
Mornington was named in 1864, and became a Shire on 24 November 1871. Before 1864, the area was known as Schnapper Point, which is the Point shown in this work, to the west of the pier. The road to the pier is now called Schnapper Point Drive. This was one of the areas that W.M.K.Vale, father of May Vale, speculated in land.
Further information:
W.M.K.Vale, father of May Vale
Post Card of Mornington Pier
Post Card of View of Mornington
Left: Arthur Streeton - Above Us The Great Grave Sky, 1890
Collection: National Gallery of Australia, Canberra.