The Artists
Emanual Phillips Fox
EMANUEL PHILLIPS FOX
A LOVE STORY, 1903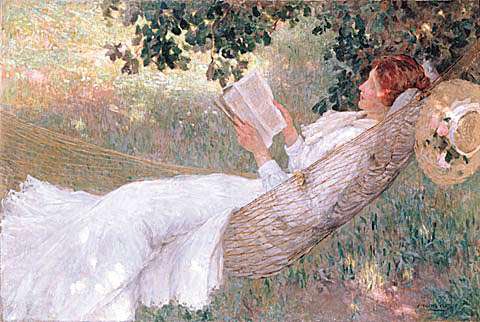 EMANUEL PHILLIPS FOX
Australia 1865-1915
A LOVE STORY, 1903
oil on canvas 101.8 x 152.7 cm
Martha Pinkerton Bequest, 1944
Collection: Ballarat Fine Art Gallery
After the death of David Charteris McArthur at his home 'Charterisville', East Ivanhoe on 15 November 1887, the property for many years was rented out to artists. These included Emanuel Phillips Fox and Tudor St. George Tucker who moved into 'Charterisville' after Walter Withers vacated the property in 1894. Here at 'Charterisville', Fox and Tucker established a Summer school and taught plein-air painting and aspects of French impressionistic practice. 'A Love Story' was painted in the garden at 'Charterisville', and the model was Ursula Foster, one of the students.
Further Information:
Jane Sutherland - Daydream c. 1895
Copyright Notice
No works can be copied from this site. Permission to publish or reproduce can be sought from the Ballarat Fine Art Gallery. All Rights Reserved medialaunch Pty. Ltd.
Left: Arthur Streeton - Above Us The Great Grave Sky, 1890
Collection: National Gallery of Australia, Canberra.