The Artists
Jane Sutherland
JANE SUTHERLAND
DAYDREAM c. 1895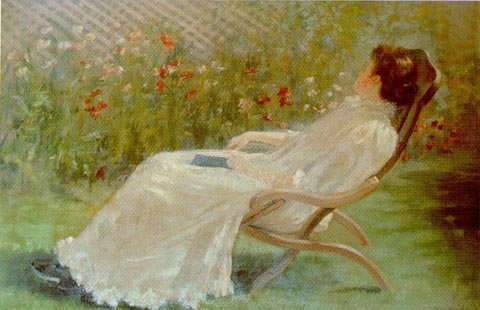 JANE SUTHERLAND
Born United States 1853, Arrived Australia 1864, Died 1928
DAYDREAM c. 1895
oil on canvas, 50.8 x 72.6 cm
Private Collection
A decorative work, which has been described as a 'reverie' picture. The woman at leisure, was a popular subject in the late Nineteenth Century, and was one chosen by a number of artists, including Emma Minnie Boyd, in works such as her 'Interior with figures: The Grange', 1875, and Emanuel Phillips Fox in his work 'A Love Story', 1903.
Further information:
Emanuel Phillips Fox - A Love Story, 1903
Left: Arthur Streeton - Above Us The Great Grave Sky, 1890
Collection: National Gallery of Australia, Canberra.