The Artists
Clara Southern
CLARA SOUTHERN
A COUNTRY WASHHOUSE, c. 1905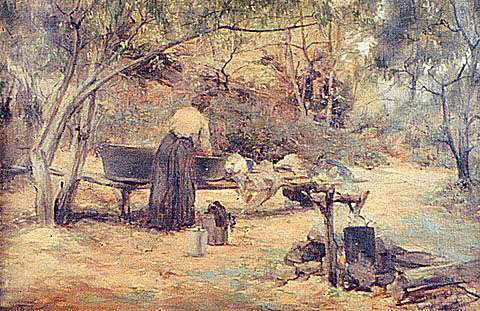 CLARA SOUTHERN
Australia 1860-1940

A COUNTRY WASHHOUSE, c. 1905
oil on canvas 39.4 x 59.8 cm
Private Collection

This is one of a number of plein-air paintings that Clara Southern produced where a woman is depicted at work within a domesticated bush landscape. Another of these paintings is 'An Old Bee Farm, c. 1900', and in both cases the model is painted in a similar pose, and in a range of colours which complement her surroundings and help her blend in as a natural part of the environment. When Clara Southern first moved to Warrandyte, the country washhouse was a common sight, with the hot water boiled in a large billy over an open fire, and copper tubs used for washing the clothes.

Further Information:
Clara Southern - An Old Bee Farm c. 1900

Left: Arthur Streeton - Above Us The Great Grave Sky, 1890
Collection: National Gallery of Australia, Canberra.