The Artists
Tom Roberts
Biography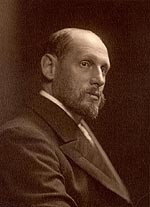 Tom Roberts c. 1903
H. Walter Barnett, 1862-1934
Hyde Park Corner, London
Private Collection

Thomas William Roberts, artist and photographer, was born in Dorchester, Dorset, England on 8 March 1856. He was the son of Richard Roberts, editor of the Dorset County Chronicle and Cela Matilda Roberts, nee Evans.

In the 1860's he attended Hardye's Grammar School in Dorchester. His father died at the age of 41, on 30 December 1868, and on 20 March 1869, Tom and his widowed mother, and his brother, Richard (Dick) and sister, Alice sailed from London on the True Briton to join relatives already living in Melbourne. They arrived at Geelong, Victoria on 22 June 1869, and travelled on to Melbourne, settling in Collingwood. His address between 1871 and 1874 was Dight Street, Collingwood.

In 1871, Tom commenced night classes at the East Collingwood Artisans' School of Design, and also found work as a photographer's assistant at Hewitt's photographic studios in Collingwood. He later left Hewitt's and found work in Stewart's photographic studios in Bourke Street East, Melbourne.

In 1874, he resided at 113 Johnson Street, Collingwood, and during this year attended the Trades Hall School of Design, Carlton, where he met and developed a strong friendship with one of the teachers, Louis Buvelot. His work was already showing great promise, and at the school he was awarded a prize for one of his landscapes. He also enrolled in 1874 in evening classes at the National Gallery School, where Thomas Clark was Master of the School of Design, and where he developed lifelong friendships with a number of his fellow students, particularly, Frederick McCubbin, nicknamed 'The Proff'. Roberts was given the nickname 'Bulldog' due to his tenacious personality.

He has been described as slim, 178 cm tall, with brown eyes, a brown beard and with premature balding.

In October 1876, on Thomas Clark's retirement, Roberts applied unsuccessfully for his position. In 1877, he visited Tasmania and met the family of Elizabeth Sarah (Lillie) Williamson, later to become his wife, in Launceston.

From 1877 to 1879 he studied in the School of Painting at the National Gallery School under Eugene von Guerard and in 1878 along with C.D.Richardson, attended anatomy lectures at the Melbourne Hospital and the University of Melbourne.

McCubbin recalled how he and Roberts, at this stage of their artistic careers, would often go on sketching outings around Melbourne, to areas such as Studley Park in Kew.

In 1879, Roberts again visited Tasmania, and in 1880, he became a member of the Victorian Academy of Arts. At this time, Roberts occasionally produced black-and-white work for illustrated journals, and two of his works were reproduced by the Art Union of Victoria.

On 20 January 1881, Roberts left Melbourne aboard the S.S.Garonne, arriving at Gravesend, London on 11 March. On 5 July 1881, he enrolled in the Royal Academy Schools, London, officially recommended by Edwin Long, and on 6 December 1881, he commenced a three-year course as a full-time student at the Schools.

In August 1883, he travelled through Spain with the physician, Dr William Maloney; the artist, John Peter Russell, and Russell's architect brother, Percy. Here in Spain, Roberts met the Spanish art students, Loreano Barrau and Ramon Casas.

In April 1884, he visited Venice, and in February 1885, briefly visited Paris, where he studied at the Academie Julian under Jean-Leon Gerome.

On 4 March 1885, Roberts departed England aboard the S.S.Lusitania, and arrived in Melbourne on 25 April. He commenced work with the photographers, Barrie & Brown, Bourke Street, Melbourne, and also produced black-and-white work for The Bulletin and other periodicals. He also produced drawings for The Picturesque Atlas of Australasia and The Australasian Sketcher.

He rented a studio with George Rossi Ashton and John Mather at 95 Collins Street, Melbourne, and painted plein air in the vicinity of Darebin Creek, Gardiner's Creek, and along the Yarra River in Heidelberg, where his work 'Quiet Stream, Heidelberg', c. 1885 was painted.

During the summer of 1885/1886, Roberts camped with Frederick McCubbin and Louis Abrahams in the bush along Gardiner's Creek in Box Hill. Here he produced 'The Artists' Camp', 1886, and 'A Summer Morning Tiff', 1886, which he discussed and illustrated in a letter to his then girlfriend, Lillie Williamson.

In December 1886, Roberts briefly visited Brocklesby Station at Corowa, where he attended a cousin's wedding to the daughter of one of the station's owners, Alexander Anderson. He again visited Brocklesby Station in 1888 and began work on his painting 'Shearing the Rams'. He did not complete this work until 1890.

In the summer of 1886/1887, he rented a small cottage near Mentone with Frederick McCubbin and Louis Abrahams. Here he produced a number of important seascape works, including 'The Sunny South', c.1887, and 'Slumbering Sea, Mentone', 1887. While at Mentone, Arthur Streeton, already a pupil of Frederick McCubbin at the National Gallery School, met the artists and was invited to join them at Mentone and to paint with them at their artists camp site in Box Hill.

In March 1888, Roberts became a founding member of the Victorian Artists' Society, and travelled to Sydney where he arrived on 19 March. Here in Sydney he met the artist, Charles Conder. He painted with Conder at Coogee, before returning to Melbourne, where in April he moved into a studio in Grosvenor Chambers, Collins Street East, Melbourne. Roberts invited Conder to Melbourne, and he arrived in October 1888. He joined Roberts and Streeton painting at the old farmhouse on the Eaglemont Estate owned by Charles Davies. Roberts was one of seven artists, including Streeton, Conder and McCubbin who took part in 'The 9 by 5 Impression Exhibition' which was opened at Buxton's Gallery, Swanston Street, Melbourne on 17 August 1889. Roberts exhibited 62 works in this exhibition, which included the painting 'Across to the Dandenongs', 1889.

In March 1890, Roberts visited Tasmania, where he stayed for two months. On his return he completed his work "Shearing the Rams' in his Collins Street studio. He returned to Corowa in February 1891, where he had painted 'Shearing the Rams', to commence work on another sheep related subject 'A Break Away!'.

In September 1891, he travelled to Sydney with Streeton, where they painted at Curlew Camp on Little Sirius Cove, Mosman.

On 25 July 1892, he worked his passage, from Sydney to Cape York and the Torres Strait Islands, as a member of the crew of the ketch, Jessie. During this voyage he visited Thursday Island and painted a number of portrait works of the local Aborigines. He returned to Sydney, and wrote a description of his voyage that was published in four parts by The Argus.

In September 1892, he exhibited his portrait triptych of 'Church, State and the Law' at the Art Society of New South Wales. His model representing 'State' was Sir Henry Parkes, Father of Federation. In 1893, he briefly visited Melbourne.

In early 1894, he visited Newstead North, where he painted his works 'The Golden Fleece' and 'Shearing shed, Newstead'. He also produced at this time, on commission, the portrait of the property owner, Edward Ogilvie. During this year he became a foundation member and first president of the Society of Artists.

On 30 April 1896, he married Elizabeth Sarah Williamson at St. Hilary's Church of England, East Kew, Victoria, and the couple honeymooned in Tasmania. In May, they departed for Sydney, and moved to Balmain in 1897.

On 31 January 1898, their son, Caleb was born. In April, thirteen of Roberts' works were exhibited in the 'Exhibition of Australian Art in London' held at the Grafton Galleries, London. Later that year, Roberts held art classes with Streeton in Vickery Chambers, George Street, Sydney.

Roberts regularly exhibited in Sydney and Melbourne, and in March 1900, travelled to New Zealand, where he stayed for two months.

He travelled to Melbourne in 1901, arriving on 5 May and on 9 May attended the opening of the First Federal Parliament in Melbourne. His contract to paint the event, 'The Big Picture' was signed on 20 May, and he was provided for this purpose, with a studio in the Melbourne Exhibition Buildings. For the next two years he continued working on portraits in 'The Big Picture', and on 17 March 1903, left Melbourne with his family to work on a number of portraits needed to complete 'The Big Picture'. On 16 November 1903, he completed his commission of 'The Big Picture' - the 'Opening of the First Parliament of the Commonwealth of Australia by H.R.H. The Duke of Cornwall and York, May 9, 1901', 1903.

'The Big Picture' seems to have drained Roberts of much of his inspiration and energy, and with the onset of eye trouble, he entered what has been described as his 'black period'. His wife, Lillie provided much of their income during this period, from the commissions she received for her gilded frames. One highlight during this period was the visit in 1907 of his close friend, Frederick McCubbin, and another was his membership of the Chelsea Arts Club, where he shared the company of many other expatriate Australian artists.

In 1909, his work 'A Norfolk Barn' was exhibited at the Royal Institute of Oil Painters, London, and in 1910, two of his works were exhibited at the Royal Academy, to which he had gained membership several years earlier.

Between 1903 and 1914, Roberts sold few works, and relied heavily on commissions for portraits. One significant commission was received in December 1913. This was to paint a full-length portrait of Lord Tennyson, for which he received 250 guineas. He occasionally travelled away from England during this time, with a brief visit to Bavaria in 1904 to paint a portrait commission of the Marquis of Linlithgow (First Govenor-General of Australia); to Holland in 1906; Italy in 1913 and 1914, and France in 1914.

With the outbreak of the First World War in 1914, Roberts enlisted with Streeton and many of his artist colleagues from the Chelsea Arts Club, as an orderly at the 3rd London General Hospital in Wandsworth. Late in 1916, he was promoted to Corporal, and was placed in charge of the Dental Department. He spent four years in service, and during those four years found little time for his art.

In 1919, Roberts sailed for Melbourne, and late in 1919 painted a number of works in the Dandenong Ranges. In March 1920, he held a very successful exhibition in the Upper Athenaeum Gallery in Collins Street, Melbourne, and later that year travelled to New South Wales and Queensland.

In 1921, Roberts returned to London, and on 6 January 1923 left England with his wife aboard the Suevic bound for Australia. They arrived at Port Adelaide on 15 February, and continued on to Melbourne. They purchased half an acre of land in South Sassafras, later named Kallista, from Thomas G. Royle, and built a wooden house on the land, which they named 'Talisman'. A wooden studio was constructed next to the house, and Roberts set about depicting the bush close to their home, in works such as 'Sherbrooke Forest', 1924. He also painted domestic scenes, such as 'Washing Day, Kallista', c. 1923-25, and local scenes, such as 'Country Road Makers', 1923. The first years at Kallista were happy times for Roberts. He often visited his old friend Arthur Streeton, who lived from around 1925, nearby in Olinda, at his property 'Longacres', and his visitors book is filled with the names and photographs of the many visitors to 'Talisman'.

He visited Adelaide and Tasmania in 1925, and in 1926 again visited Tasmania for a six- week holiday. He also visited Trawool for three weeks in November 1927.

On 3 January 1928, his wife, Lillie died and was buried on 5 January at Kew Cemetery. After her death, Roberts rested at Apollo Bay. In March 1928, his work 'Bailed Up' which he had overworked, sold privately in Sydney for 450 guineas, which provided him with a great deal of financial security. He spent the year travelling to country areas such as Yea, Hepburn Springs, and later, Trawool for five weeks. He also travelled to Tasmania, and on 27 August married an old family friend, Miss Jean Boyes of Lochmaben, Tasmania. In September, the couple returned to Kallista, and in the summer of 1929 spent three months in Tasmania. They also visited Mallacoota in July 1929.They again returned to Tasmania in 1930 and visited Lochmaben and Penguin.

In 1931, Roberts fell ill in May, and in June had surgery for cancer. He returned to his home 'Talisman' for rest and died at 'Talisman' on 14 September 1931, exactly eight years to the day that he moved into 'Talisman'. His ashes were buried in the Boyes family plot in the Illawarra churchyard, near Longford in Tasmania.

A major retrospective of the works of Tom Roberts toured the capital cities of Australia from October 1996 through to July 1997.

Arthur Streeton - Above Us The Great Grave Sky, 1890
Collection: National Gallery of Australia, Canberra.