The Artists

Arthur Streeton - Biography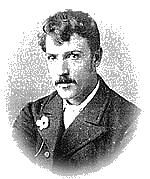 Arthur Streeton
Private Collection
Arthur Ernest Streeton, or 'Smike' as he was known to his friends, was born at Duneed, near Geelong, Victoria on the 8th April 1867.
He was the fourth of seven children of Charles Henry Streeton and Mary Blundell, nee Johnson. His family moved to Queenscliff in 1869, when his father, who was a School Teacher, was appointed Headmaster of the local School. In 1874, his father accepted a clerical position with the Education Department in Melbourne, and the family moved to Richmond, where Arthur attended the Punt Road State School.
In 1880, Arthur was employed as a junior clerk by the wine and spirit importers, Rolfe and Co., 98 Bourke Street West, Melbourne and later by White's Soft Goods. In 1884, he also worked as a clerk for two warehousemen and importers, Christie, King & Co., and Dodgshun, James & Co.
He studied under O.R.Campbell, Frederick McCubbin and G.F.Folingsby at the National Gallery Schools in Melbourne between 1882 and 1888, and joined other students plein air painting at popular sites around Melbourne, including Box Hill, Mentone and Heidelberg. Streeton was heavily influenced by the teachings and works of his close friend, Louis Buvelot, and was fascinated by the French Impressionist movement. He was also interested in the works of Corot and Millet, and like Frederick McCubbin and Tom Roberts, developed a great admiration for the works of J.M.W.Turner. In 1885, he held his first exhibition at the Victorian Academy of Art in Melbourne. From 1886 to 1888, he was apprenticed as a lithographer to George Troedel and Co., 43 Collins Street East, Melbourne, and in December 1886 painted with Frederick McCubbin and Tom Roberts at Mentone.
In 1887, he camped and painted with Louis Abrahams, Tom Roberts and Frederick McCubbin at the weekends on David Houston's property on Gardiner's Creek in Box Hill, and also visited this site in 1888.
Around Christmas time in 1888, he moved into the farmhouse on the Eaglemont estate, owned by Charles Davies. Here he lived rent free, and shared the house at various times with Tom Roberts, Charles Conder and Walter Withers. Also, living in the house was the caretaker of the estate, Jack Whelan. Streeton depicted Whelan sitting on a log on the estate, in his work: 'The Selector's Hut: Whelan On The Log', 1890.
While living at Eaglemont, Streeton produced many landscape masterpieces, including: 'Golden Summer, Eaglemont', 1889; 'Eaglemont', 1889; 'The Road To Templestowe', 1889; 'Still Glides The Stream and Shall Forever Glide', 1890; 'Near Heidelberg', 1890; 'Spring', 1890, and 'Above Us The Great Grave Sky', 1890.
While living at Eaglemont, Streeton also took part with amongst others, Charles Conder, Tom Roberts and Frederick McCubbin in 'The 9 by 5 Impression Exhibition'. Streeton exhibited 40 works in this exhibition, which was held in Buxton's Art Gallery in Melbourne.
Streeton remained at the Eaglemont estate until mid-1890, when he decided on a trip to Sydney. He sailed to Sydney, arriving on the 2nd June, and stayed with his sister at Summer Hill. While in Sydney, he painted at Coogee and also at McMahon's Point, where he produced major works such as 'Sunlight Sweet', Coogee, 1890 and 'From McMahon's Point - fare one penny', 1890, before returning to Melbourne on the 11th October.
In 1891, he resided once again in Eaglemont and worked and exhibited in Tom Roberts' studio in Grosvenor Chambers in Collins Street, Melbourne. Later that year he sailed with Tom Roberts to Sydney, where he arrived on the 10th September. For the next three months he lived in the Blue Mountains and here produced the work 'Fire's On', c. 1891. In 1892, he returned to Melbourne and worked in the Grosvenor Chambers studio until September. He returned to Sydney in October, and in December 1892 lived and painted with Tom Roberts at 'Curlew Camp' on Little Sirius Cove, Mosman.
In November 1893, he visited northern New South Wales, and in 1895 visited Melbourne where he lived at 53 Highbury Grove, Kew. Later that year he also visited Adelaide. In 1896, he shared with Tom Roberts a teaching studio in Vickery Chambers, Sydney and during this year also painted along the Hawkesbury River, producing major landscape works such as 'The Purple Noon's Transparent Might', 1896, and 'The River', 1896. Late in the year he visited Melbourne where he held an exhibition of his latest works, which he called 'Streeton's Sydney Sunshine Exhibition'.
On the 27th January 1897, Streeton left Sydney aboard the S.S.Polynesia and spent three months in Cairo and a short time in Naples, before travelling overland to England, arriving in May. In London, he renewed his friendship with Charles Conder and settled at Studio 2A Joubert Mansions in Chelsea. Two years later in London, in May 1899, he met his future wife, professional violinist, Esther Leonora (Nora) Clench.
Streeton was greatly impressed by the works of the 'Glasgow School' artists, and exhibited with the Royal Academy in 1900. In 1903, he was elected a member of the Chelsea Arts Club, and was visited by Tom Roberts, who had arrived in London to complete his 'Big Picture' - 'The Opening of the First Commonwealth Parliament of Australia'.
In October 1906, he departed for Australia, and visited Adelaide, Melbourne and Sydney. In February 1907, he spent time with the Pinschof family at their country residence 'Hohewarte' on Mount Macedon, and here produced the landscape 'Australia Felix'. In April 1907, he held a very successful exhibition in Melbourne in the Hibernian Hall, and then visited Sydney for three months, before returning to Melbourne where he departed for London in October.
He arrived in London, and on the 11th January 1908, married Esther Leonora (Nora) Clench. Their address was Abbey Road, St. John's Wood. From the end of April, the couple honeymooned for a month in Venice, and Streeton returned to Venice again in September. The many works that he produced while on these visits to Venice were sent to Melbourne for the exhibition 'Arthur Streeton's Venice', which was held in the Guildhall in July 1909.
In May 1909, he cycled through Dorset with Tom Roberts and painted Corfe Castle. He was elected a member of the Royal Society of British Artists, London and the following year was elected a member of the Royal Institute of Oil Painters, London. On the 20th March 1911, his only son, Charles Ludwig Oliver was born in London, and during this year Streeton was elected a member of the Royal British Colonial Society of Artists, London.
His works at this time show his love of nature, his delight in the English garden and his letters to Walter Withers and other colleagues are filled with references to the flowers in his garden and greenhouse. Such was his later passion for his garden that in 1934 he wrote that 'painting interfered with his gardening'.
Streeton returned to Australia in April 1914 and held exhibitions in Melbourne and Sydney. He was in Sydney on the 4th August 1914 when England declared war on Germany, and after a short trip to paint at Mount Buffalo, he returned to England, arriving in February 1915. On the 24th April 1915, he joined the Royal Army Medical Corps at the 3rd London General Hospital, Wandsworth and worked alongside fellow artists Tom Roberts, George Coates and A.Henry Fullwood. At the hospital, Streeton worked for ten to fourteen hours a day, and the distress of the patients, suffering from severe facial injuries and shell shock, affected him greatly. He was discharged in February 1917 as medically unfit, and recuperated in the English countryside.
On the 14th May 1918, he travelled to France as an Australian Official War Artist and in December 1919 sailed to Melbourne. He arrived in Melbourne in February 1920, and painted in the Grampians and the Dandenong Ranges. The following year he bought five acres of land in Olinda, and painted a number of coastal works at Lorne, Portsea and Sorrento.
In February 1922, he sailed to Canada and visited cities in the United States of America before departing for London. In September 1923, he returned to Melbourne and in 1924 lived in South Yarra. He spent his weekends at Olinda, organizing the building of his house at 'Longacres'. In his later years, here he could hide from the politics of the art world and could concentrate on his gardening. He had bought his five acre property - which he named 'Longacres' from 'Mr Dowling no agents - & got it for 140 pounds an acre'. His wife seldom visited 'Longacres', so in 1927 he bought a city residence on the corner of Grange Road and Douglas Street, Toorak.
In 1924, he visited Queensland, and in August 1926 visited Sydney. Early in November 1927, he painted at Trawool near Seymour in the Goulburn Valley. His work 'Afternoon Light, Goulburn Valley', c. 1927 painted at this time, was awarded the 1928 Wynne Prize. In 1930, he again travelled, this time to Corryong to paint the vistas towards Mount Kosciusko.
Over the years that Streeton visited and lived in Olinda, he painted many panoramic landscapes, including works such as 'Golden Afternoon, Olinda', c. 1924; 'View From Farmer's, Olinda', c. 1928; 'Silvan Dam', c. 1930-31, painted from Kalorama, and 'The Cloud', 1936, a view towards Mount Macedon.
While living at Olinda he also produced works of local domestic scenes, and many still life works, especially of roses. He loved the roses in his garden, and wrote an article on roses for The Argus in 1929. He also wrote for The Argus as art critic, from 1929 to 1935. He enjoyed his writing and contributed occassional articles to the papers between 1925 and 1936.
In 1935, he wrote and published 'The Arthur Streeton Catalogue' and in 1937 was knighted for his services to Art. His wife Nora died on the 17th May 1938, and Streeton spent his final years quietly painting and enjoying his gardening at 'Longacres'. He also enjoyed listening to classical music and reading.
He died on the 1st September 1943, and is buried in Ferntree Gully Cemetery, Victoria.
Left: Arthur Streeton - Above Us The Great Grave Sky, 1890
Collection: National Gallery of Australia, Canberra.