The Artists
Clara Southern
Biography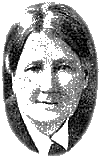 Clara Southern
Photograph in The Bulletin,
29 May 1929
State Library of South Australia
Clara Southern was born near Kyneton, Victoria on 3 October 1860, and was the eldest surviving child of five daughters and one son of John Southern, local timber merchant and farmer, and his wife, Jane, nee Elliott.
Her early art training commenced with lessons from Madame Blanche Mouchette, painter, schoolmistress and founder of the Alliance Francaise in Victoria, who conducted classes from her home 'Oberwyl' in Burnett Street, St. Kilda. Clara Southern also took lessons from Walter Withers, visiting him at his home in Heidelberg, and developing a lifelong friendship with the artist and his family.
Her artworks, especially of Warrandyte, show the strong influence of Withers' teaching, and Withers in his later years, while living in Eltham, would often call on Clara Southern at her home in North Warrandyte.
Between 1883 and 1885, she attended lessons in the School of Design, National Gallery of Victoria, under the Master of the School, Oswald Rose Campbell. In the second half of 1886 and in 1887, she again attended the National Gallery of Victoria, this time enrolled in the School of Painting, under George Frederick Folingsby.
Like fellow artist, Elizabeth Parsons, she was a pioneer for women's equality in the Arts, and for the professional standing of women artists. She was one of the first women to be elected to the Buonarotti Society, this taking place on 23 January 1886. She was also the first woman member of the Australian Artists' Association, and the first woman to serve as a member of its committee.
In 1888, Clara Southern sublet rooms from Tom Roberts in Grosvenor Chambers at 9 Collins Street, Melbourne, and over the next ten years, these rooms were used as her studio, which she shared with Jane Price and Jane Sutherland.
In the early 1890's, Clara Southern conducted drawing and painting classes in her studio, and regularly joined her male colleagues of the Heidelberg School on their plein air painting trips to Heidelberg and Eaglemont, where she painted plein air works such as 'The Cabbage Patch', c. 1899. .
From 1902 to 1906, she was elected a member of the Council of the Victorian Artists' Society, once again displaying her interest in protecting and enhancing the professional rights of women artists. She exhibited with the Victorian Artists' Society from 1889 to 1917.
She joined the Lyceum Club, and became an active member of the Lyceum Club Art Circle. The Lyceum Club also boasted artist members such as Dora Wilson, Jessie Trail, A.M.E. Bale, Violet Teague and E.M. Sweatman who formed the Society of Twenty Melbourne Painters in 1918. Mrs Frederick (Annie) McCubbin and Mrs Arthur (Nora) Streeton were also active members of the Lyceum Club.
Clara Southern also became a member of the Melbourne Society of Women Painters and Sculptors, and the Twenty Melbourne Painters, with whom she exhibited regularly. Her works were exhibited in the First Exhibition of Australian Women's Work, held in the Exhibition Buildings, Melbourne in 1907, and it has been suggested that at this time she was 'the most prominent female landscape artist in Melbourne'. She later held a major solo exhibition in the Athenaeum Gallery in 1914, and had works accepted for the Panama Pacific Exposition in 1915, such as 'Bush Camp' c. 1914.
On 9 November 1905, she married miner, John Arthur Flinn at St. John's Anglican Church, Blackburn, and the couple settled in North Warrandyte. Their cottage 'Blythe Bank' was situated on 'The Hill' above the Yarra River and overlooked the township of Warrandyte. A description of 'Blythe Bank' and the artist's impression of her home is provided on this site, with the work 'The Artist's Home', c.1909.
Clara Southern in her student days had been given the nickname 'Panther', and was described as a tall lithe beauty, with reddish fair hair. She was known to have a warm and generous nature, and was very much the catalyst behind Warrandyte becoming known for its artistic community. She made friends easily, and Professor Osborne's daughter, Audrey, recalled posing as the model on her parents North Warrandyte property, for 'Audrey and Chickapick', 1911, and later Clara Southern giving her the painting as a gift.
Clara Southern encouraged many young artists to visit her studio at Warrandyte, and several settled nearby and established studios of their own. Visitors to 'Blythe Bank' included Walter Withers and his family, members of the McCubbin and Colquhoun families, Penleigh Boyd, Charles Wheeler, Harold Herbert, Frank Crozier and 'Jo' Sweatman, who became her neighbour, living at 'Kipsy'.
Clara Southern's works captured the very spirit of Warrandyte. She captured the beauty of Warrandyte in her panoramic work 'Evensong', c. 1900-1914, and depicted local landmarks in works such as 'Warrandyte Hotel', c. 1910. She also captured the tranquility of the nearby Yarra River, in a work such as 'A Cool Corner', c. 1918. A number of her works depicted women at work within a domesticated bush landscape, and two fine examples of this are 'A Country Washhouse', c. 1905, and 'An Old Bee Farm', c. 1900. Like her close friend, Frederick McCubbin, she also captured women at work in the kitchen, and a fine example of this is 'The Kitchen', 1912.
Clara Southern became a well-known local identity in Warrandyte and found ready sales for her artworks among the wealthier residents of Warrandyte and Eltham. Unfortunately, these residents lived in areas of high bushfire risk, and many of her major works were lost in the bushfires that devastated these areas in 1939. She was very aware of the threat of bushfires, and the tragedy and hardship that they brought, and contributed to the Artists' Bushfire Relief Fund Exhibition. She was also aware of the plight of the Aborigines in Central Australia, and supported the efforts of fellow Lyceum Club member, Violet Teague and her half-sister, Una, in an exhibition they organized in aid of the Hermannsburg Mission Water Supply in Central Australia, after visiting this area in 1933.
Clara Southern remained in Warrandyte and was often visited by other local artists. She died at the age of eighty, on the 15 December 1940, and was cremated. Sadly, 'Blythe Bank', which had survived the devastating 1939 bushfire, was destroyed by a later bushfire, which burnt much of 'The Hill' of North Warrandyte.
Clara Southern has been represented in many exhibitions, including :
Australian Women Artists: One Hundred Years 1840-1940, George Paton and Ewing Galleries, Melbourne,1975;
Golden Summers: Heidelberg and Beyond, curated by the National Gallery of Victoria, 1986;
Completing the Picture: Women Artists and the Heidelberg Era, Artmoves, 1992;
A Century of Australian Women Artists, 1840s-1940s, Deutscher Galleries, Melbourne, 1993; and
Important Australian Women Artists, The Melbourne Fine Art Gallery, 1993.
Left: Arthur Streeton - Above Us The Great Grave Sky, 1890
Collection: National Gallery of Australia, Canberra.